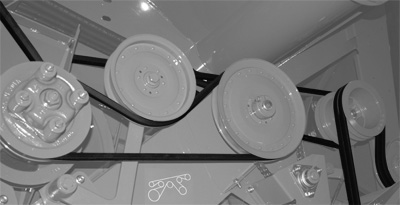 Agricultural Belts
At A&I Products we continue to search for new products.
A&I provides a premier quality belt for automotive needs. Wedge V-belts and ribbed automotive belts provide outstanding grip for minimum transmission loss and high tensile strength to prevent minimal elongation. Poly ribs assure less heat buildup and are highly oil resistant and able to bear a wide temperature range to support the automotive products and manufactured to OEM specifications.
A&I agricultural belts are available in Conventional, Conventional Cut edge, Variable Speed, Poly-V, and Banded types. Agricultural belts are made in various constructions to meet the requirements of various agricultural applications as follows:
Special construction to give maximum belt life in high ambient temperatures.
Specially compounded for flexibility on small pulley and reverse bend idlers.
All types of standard sections are available in Banded construction to offer use at variable loads, even torque distribution and increased lateral rigidity for vibration and whip free applications. Also available for twisted belt applications.
A&I auto belts for tractors are suitable for ultra modern high speed engines. This is fulfilled by high modulus & low stretch tensile cords. Some of the features of the tractor belts:
High tensile polyester for maximum power transmission
Possesses molded cogs for extra flexibility
They are Oil and Heat Resistant
These Belts are capable of working on high speed engines.
These Belts are good abrasion resistant
These belts have low stretch and offer high power transmission even on small pulley diameters.
Some belts are manufactured with molded cogs for added strength.
Tractor V-belts conform to SAE J 636 / DIN 7753 / ISO 2790. Poly V belts conform to SAE J 2432 / ISO 9981/ISO 9982 / RMA-IP-26.