Product Offering

Classical & Aramid V-Belts
The reliable and superior-crafted line of industrial belts offered through A & I Products is one of the most extensive in the marketplace today. Traditional "Classical" models make up the largest group of belts and are utilized significantly in the industrial field. Classical V-belts are the first to enter the power transmission scenario. Continued efforts of research and development have enabled Classical belts to achieve power ratings considerably higher than most other belts available in the market. The compounds used to manufacture these belts are chosen to match the stipulated power ratings and to also offer distinct advantages towards increased safety on critical drives.
Features
Classical V-Belts
Aramid V-Belts

Poly Cord
High resistance to elongation
Temperature range up to 140° Fahrenheit
Antistatic, oil and heat-resistant

Aramid Cord
Over twice the tensile strength of Poly Cord
High resistance to elongation.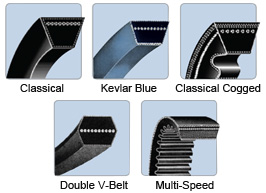 The A & I "Classical" line of belts include: • Classical • Fractional • Kelvar Blue • Classical Cogged • Double V-Belt • Classical Banded • Classical Cogged Banded • Multi-Speed • Wedge • Wedge Banded • Cogged Wedged Banded • Metric • Metric Cogged
Multi-Band Belts
Multi-Banded Belts are made from Classical or Wedge belts with a strong tie-band over them. The band widths are available in multiple sizes depending on the application. A&I will cut the belts to meet the number of bands required for a customer's application. These belts tend to prevent rollover and reduce vibration tendencies. Such situations are not uncommon in drives with a combination of long belt spans and/or pulsating loads as created by an internal combustion engine or reciprocating pump and compressor. In such cases, belt whip may become so severe that belts interface with each other and turn over in the grooves or even jump out of the grooves. Banded V-belts eliminate such problems.
Features
Banded belts give additional l ateral rigidity
2 to 12 bands available in most banded part numbers
Increase horsepower ratings
Antistatic, oil and heat-resistant
Banding adds up to 3/4" outside length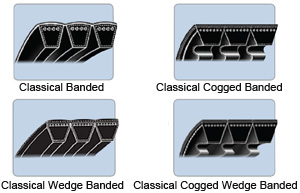 The A & I Multi-Band line of belts include: Classical Banded • Classical Cogged Banded • Classical Wedge Banded • Classical Cogged Wedge Banded.
Industrial Timing/Synchronous Belts
Timing Belts can best be described as the belts with integrally molded teeth on its inside which makes positive engagement with axially-grooved pulleys. Timing belts are also known as synchronous belts or positive drive belts. Synchronous belt drive is not considered as a substitute or replacement to other modes of belt drives. Its unique feature enables use in positive drive resulting in precise movement of drive components. High strength, excellent flex life and high resistance to elongation are achieved.
Features
Trapezoidal and curvilinear/spherical teeth profiles
High-efficiency due to positive engagement between belt teeth and pulley grooves
Fiberglass tensile cords provide strength, excellent flex life, and high resistance to elongation
Tough nylon facing protects tooth surface
No re-tensioning required
Free from maintenance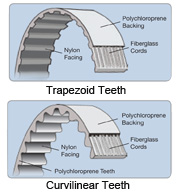 The A & I Industrial Timing line of belts include: Trapezoid Teeth • Curvilinear Teeth.
Lawn & Garden Belts
One of the world's largest inventories of Lawn & Garden Belts is offered by A & I Products. Our line of Aramid corded lawn and garden belts have become increasingly popular over the years due to their extreme strength, durability, and value-added pricing. Aramid corded belts (also called Aramid or extra-heavy duty belts) are constructed of organic polyaramide fibers that are manufactured using complex chemical processes. Aramid is used in belts as a tension member because of its inherent stability and high tensile strength cord. Aramid constructed belts are specifically used on applications where: high levels of power
transmission are required; there are restrictions on the drive width; the installation and take-up allowances are minimal; and the drive is critical.
Features
Replacement for OEM belts
High tensile strength; high resistance to wear and tear
Antistatic, oil and heat-resistant
High resistance to shock loads; reduce slippage while clutching
The A & I Lawn and Garden line of belts fit: Commerical Mowers • Lawn Tractors • Riding Lawn Mowers • Walk Behind Mowers • Lawn Edgers.
Agricultural Belts
Whether running a tractor or combine, Ag belts from A&I come in both V and cogged models, and provide the quality needed to support the field of agriculture. Ag belts are manufactured from premium quality rubber and reinforced with the best grade of textile fibers. The quality construction provides superior heat and oil resistant qualities and gives fabulous transverse rigidity. A&I's Ag V-belts are produced according to ISO standards, which provide a great fit every time.
Features
Replacement for OEM belts
High resistance to wear and tear
Antistatic, oil and heat-resistant
Reduce slippage
Automotive Belts
A&I also provides a premier quality belt for automotive needs. Wedge V-belts and ribbed automotive belts provide outstanding grip for minimum transmission loss and high tensile strength to prevent minimal elongation. Poly ribs assure less heat buildup and are highly oil resistant and able to bear a wide temperature range to support the automotive products.
Features
Automotive Ribbed Belts
Automotive Wedge Belts

Noise Free
Antistatic, oil and heat-resistant
High resistance to elongation

Raw edge cogged construction
Antistatic, oil and heat-resistant